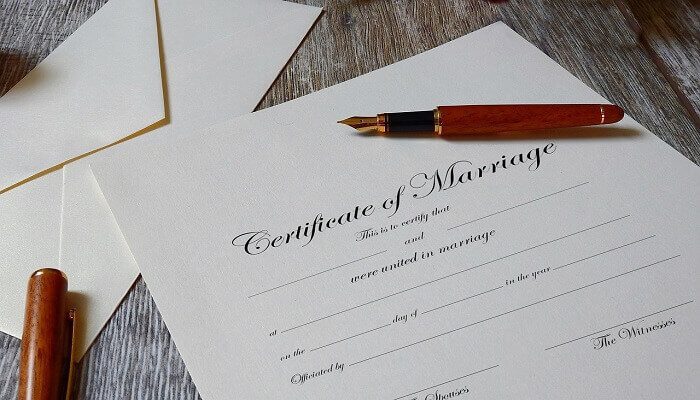 Translating legal documents such as Marriage Certificates translation Dubai requires high accuracy and reliability. So, choosing a reliable translation agency is very important. But you also need to get it translated at affordable prices. You will look for a translation agency that will inform you of every step of your translation and deliver to you the certification stamped and signed at a competitive price.
Marriage certificate translation from English to Arabic
A marriage certificate is a legal document that features information about the bride and the groom, including but not limited to the date and place of marriage, the bride and groom's full name, their age, occupation, and place of residence, marriage witnesses' full names and date when the certificate was issued.
Factors that Impact Marriage Certificate Translation Cost
When you need to have your marriage certificate translated to Arabic, you must contact a service provider to know if they offer marriage certificate translation services in Dubai and ask for a quote. Some factors impact translation costs:
The delivery time differs depending on the Translation service agency's experience and client request. Marriage certificates usually take from 1 to 2 days, and the Translation service agency may add additional costs if the client is pressing for a quicker delivery time.
An essential factor you need to look for when translating your marriage certificate is confidentiality. You need to find a translation agency that maintains 100% confidentiality and requests all their translators to sign a Non-Disclosure Agreement before sending them any documents to translate.
Alsun has a translation office in Dubai offering a wide range of translation services. We are always ready to serve you 24/7.
Process of Marriage Certificate Translation Dubai 
The translation in itself may seem to be easy, but in fact, it needs a lot of work and accuracy. You need to find a Translation services agency that follows the below steps:
Receive a picture of the certificate.
transform the picture into an editable format
extract the text and translate it
send a draft translation to the client so he/ she can check the names and the dates
once approved by the client, the translation agency will add the translated text back into the original template
Then they certify the translation and send it to the client on the agreed delivery time.
Some Translation agencies allow online payment with any credit or debit card.
The translation must be:
Fully certified and authenticated.
Recognized by official entities.
Hold an official letter & stamp.
How to get a marriage certificate in Dubai
Dubai is one of the countries that request a marriage certificate translated into Arabic with high accuracy and reliability, which confirms the relationship between the two partners through an official paper translated into the country's language. Therefore, the client must quickly go to one of the documentation offices and submit some papers required to obtain a marriage document, such as:
a copy of the passport
Copy of the visa
The original certificates of the spouses
A number of personal photos
Letter of Authority
After following these steps, you will get a specific date to receive the marriage contract.
How to translate a marriage certificate into Arabic
Now it is no longer difficult to translate the marriage document, especially in Dubai, which requires a translated marriage document when applying for a visa, so it is easy to communicate with translation in Dubai and send a request to translate the marriage contract document into Arabic, with the need to bring some papers and documents such as
Marriage certificate
The national number or personal proof for the spouses
A number of photos of the couple
A document from the embassy that includes the name, age, religion, income and residence address
A medical examination confirms the safety of the spouses
Where to translate the marriage certificate to Arabic?
The client must find a specialised and accredited translation office for marriage contracts. In the Middle East, several offices have become famous among several offices thanks to the distinguished translation they provide to their clients at the right price. Among the most critical offices that provide translation of marriage contracts into Arabic are the Dubai translation office and the Riyadh translation office. At the Cairo translation office, you must contact one of the offices through customer service and set the appropriate date for you to hand in your documents so that the translation process can be completed as quickly as possible.
Where can I translate my marriage certificate into English?
In the Middle East, specialized translation companies have many translators trained to professionally translate all documents, marital contracts, and legal documents for all languages, ​​such as Arabic, English, French, Italian, and others. Among the most important companies is the Dubai Certified Translation Company, which saves the customer time and effort and produces translated documents for him. High quality and free of errors.
Where can I translate my marriage certificate to Arabic in Dubai?
You can choose Alsun as your trusted translation company for excellence and professionalism. At Alsun, we have native Arabic translators with prolonged experience in the legal field, enabling them to translate your marriage certificate perfectly and accurately. Get in touch with our experts now!
How much is the marriage certificate translation in Dubai?
The cost varies according to many factors, such as the language pair, the purpose of translation, and the translation company. Generally, the cost for each page ranges from AED 230 to AED 800, but with Alsun, you can ensure that you pay the lowest cost for the highest quality!
Why should I translate and attest my marriage certificate?
In UAE, living with your spouse without marriage is not allowed. Additionally, to legalize your marriage, you should translate and attest your marriage certificate from the concerned authorities to be valid, enabling you to live together legally.
Arabic translation of marriage certificate
Are you looking for an Arabic translation of the marriage certificate? Let our experts help you translate your certificate to Arabic quickly! We help convert marriage certificates to English or Arabic and translate them into many different languages through a team of certified translators in Dubai.
Check Also:
Conclusion
Now, whenever you need to have your marriage certificate translated, you know what you must do, as you have learned about the factors that impact the Marriage Certificate Translation in Dubai Cost and how to choose the translation services in Dubai.