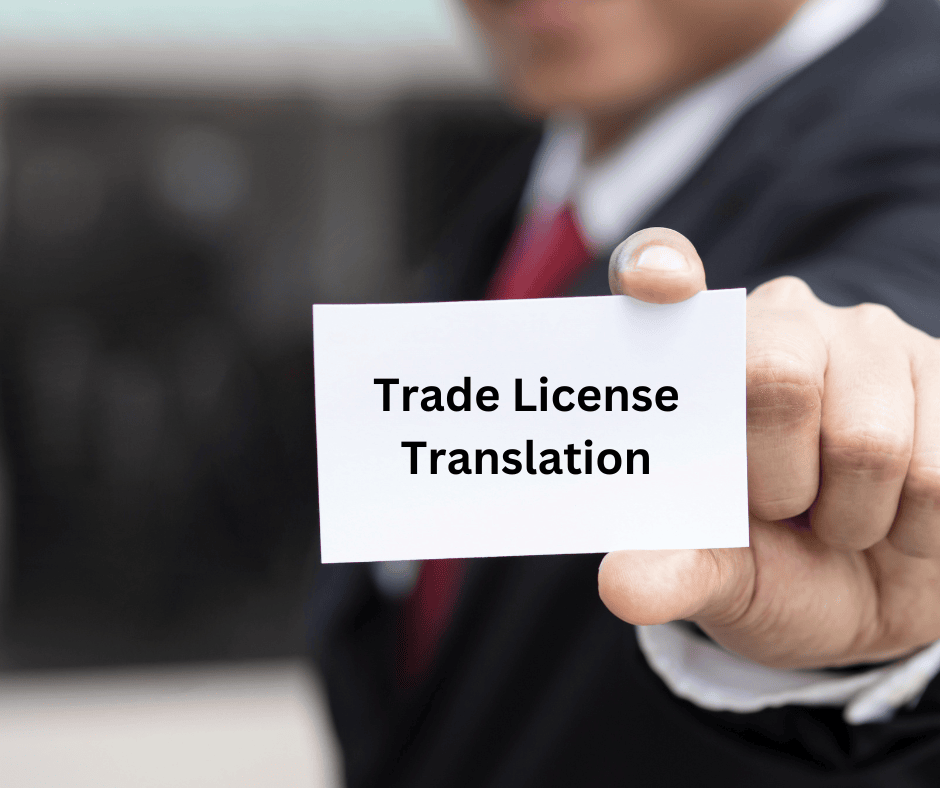 The trade license is evidence of compliance and a gateway to multiple business opportunities. This blog explores the importance of trade license translation in Dubai and why Alsun is the compass guiding businesses to success in trade license translation.
What Is Trade License?
A trade license is a formally certified document a business entity must secure before initiating its operational endeavours to engage in diverse activities specified by the license. 
It serves as evidence that the business's operations will not pose any threats to public safety and underscores the commitment of the company to avoid any actions that could cause inconvenience to others.
The absence of the trade license renders the enterprise's operations unlawful. This noncompliance exposes the business to substantial penalties and legal repercussions. 
Beyond its regulatory importance, business license translation services are valuable and necessary to help companies foster a heightened level of trust among global customers, creditors, and potential investors in the authenticity and credibility of the business entity.
Types of Dubai trade licenses
In Dubai, there are four main types of licenses, including:
Professional license

: granted to individuals who provide particular services in their expertise.

Commercial or trade license

: issued for individuals engaging in commercial activities or various forms of trade.

Industrial license

: granted to enterprises that conduct industrial and manufacturing activities.

General Trade License

: issued for businesses to operate in general trading, including import and export activities.
The benefits of getting and translating a trade license in Dubai
UAE business has many advantages, encouraging many company owners to set up branches in this country. Here are some benefits of getting and translating a Dubai trade license:
1- Facilitate local and global trade
Trade license translation enables entrepreneurs to supply their products within the local Dubai market or expand their reach internationally, thereby reaping profits from foreign markets. 
Furthermore, general trade license translation empowers business proprietors to re-export their goods, thereby enhancing the company's capacity to conduct commerce with various nations across the globe.
2- Enhance business credibility
Amid a landscape where some enterprises exploit legal ambiguities to maximize their profits, companies that invest in complying with regulations earn the confidence of their clientele. 
The trade license translation also augments the business's visibility within its markets, establishing credibility and fostering trust among its global customer base.
3- Minimal trade constraints
Dubai is an optimal destination for conducting business due to its notably lenient trade regulations. 
As long as your products are registered under a general trading license, the concerns regarding trade limitations become negligible, allowing for unhindered business operations.
4- Facilitate sponsorship opportunities
A prominent advantage of acquiring a translated trade license in Dubai is the ease of sponsoring dependents. 
After trade license translation, you can ensure simplifying the process of initiating a new life or business venture in Dubai.
Why choose Alsun?
1- Performed by proficient translators
Alsun collaborates with native linguistic experts proficient in various specialized business domains. 
This guarantees precise usage of terminology and the utmost quality for trade license translation.
2- Internationally recognised
Expansion into novel global markets might appear daunting when navigating unfamiliar terrain and the prerequisites that must be fulfilled. 
Fortunately, Alsun's business license translation services are certified by regulatory bodies worldwide.
3- Multi-industry expertise
Alsun comprehends the pivotal role of diversity. Hence, our commitment extends to delivering trade license translation solutions encompassing an array of industries. 
Regardless of your market or specialization, Alsun remains unwavering in its support.
Alsun provides comprehensive business license translation services
At Alsun, we have worked with multiple enterprises across various industries. Extensive years of diverse cooperation have enabled us to translate multiple business licenses, including:
Federal business license.

Sales tax license.

Cleaning or janitorial license.

Fire inspections and permits.

Gardening business license.

Landscaping business license.

Restaurant and food Truck license.

Health permits and licenses.

Local business license.

Liquor license.

Occupational permits, licenses, and certificates.

Sales privilege license.

Planning and zoning permits.
Read About :
The industry standards perfectly applied to business Trade license translations with Alsun.
Translating documents within the legal domain necessitates strict adherence to specific stipulations and regulations outlined by the corresponding country or jurisdiction. 
At Alsun, various specialized services are offered, staffed by industry experts spanning diverse sectors. 
We will assign an apt legal specialist to oversee the translation of your business license, ensuring the preservation of the document's essence and significance. 
Our proficient professionals consistently uphold the requisite industry benchmarks and prerequisites.
Why is Alsun the best choice for trade license translation?
Trade license translation with Alsun is a straightforward and convenient procedure, adhering to all legal terms sanctioned by local authorities.
We accept various commonly utilized document formats, such as DOCX, PDF, and even images directly uploaded from mobile devices.
You can ensure complete confidentiality, as we recognize the significance of safeguarding your documents. So, once your trade license is sent, we promptly secure it using encryption. 
We know slight errors in financial documents can result in serious issues related to compliance or employment. Hence, all our business license translation services in Dubai  are executed by certified translators with extensive experience. 
Best-certified trade license translation to Arabic
Trade license translation to Arabic with Alsun is a straightforward process, as we have a large team of certified Arabic translators with great linguistic experience and a deep understanding of Arab culture, traditions and laws.
At Alsun Translation Company, we can translate a trade license from any language into Arabic, helping you expand your business in the fertile Arab market.
After carrying out the translation process, we proofread the translated documents more than once to ensure they are error-free.
In conclusion, obtaining a trade license is a regulatory requirement and a strategic step for businesses aiming to flourish in Dubai's dynamic market. Compliance with different license types catering to various industries ensures legal operation and enhanced credibility. Alsun is the premier choice for trade license translation, thanks to our expert translators, global recognition, and commitment to industry standards.